 About the Children & Youth Opportunity Fund:
The Children and Youth Opportunity Fund (CYOF), a registered charity, was developed in 2009, to assist and transform the lives of children and youth in need throughout the districts of Nipissing and Parry Sound. Through enrichment, education, and encouragement, the CYOF will provide equal opportunities for all children and youth who are currently involved with our Agency.
The CYOF supports our children in the following ways:
Every child loves to play! This area of support is to provide children and youth with opportunities to participate in a variety of recreational activities by subsidizing or covering costs. Money from this portion of the CYOF will be allocated to children and youth requiring assistance with participation fees, registrations fees, and equipment. By participating in camp activities or taking lessons, children and youth learn how to be part of a team while raising their self-esteem and increasing their social skills.
Summer camp – day or week long
Dance, music, theater, or art lessons
Sports teams
Learning should be fun, enjoyable, and most of all exciting! The CYOF hopes to support and encourage as many children and youth as possible to complete their educational pursuits to the best of their ability. This includes primary, secondary and post-secondary education. This portion of the Fund will provide monetary assistance to children and youth requiring:
 
Computers
Text books and other learning materials
Extra-curricular field trips
Tutoring
Not only does the CYOF support individuals, it also supports families involved with the Society. This section of the CYOF provides children and youth, along with their families, necessary tools and services to ease the everyday challenges they face. For example, the CYOF may support day programs or assist families that require chairlifts or other special equipment.
Wheelchair ramps
Family activities
Specialized equipment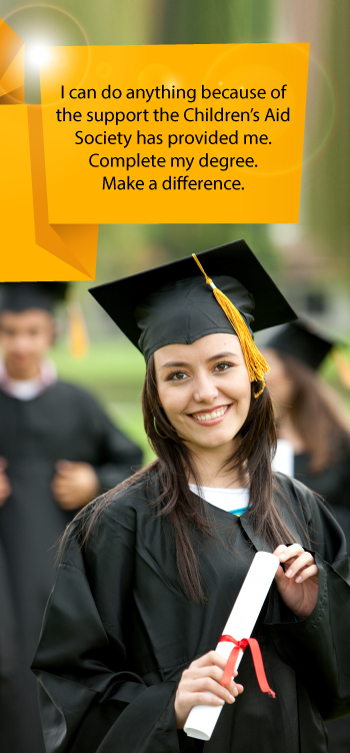 Certain criteria must be met to be an eligible recipient of the CYOF. For more information on the CYOF eligibility criteria, please email more.info@parnipcas.org
To ensure the success and sustainability of the CYOF, building and maintaining a positive relationship with the community is crucial. We are committed to building positive relationships with individuals, families, local schools and businesses and the community at-large. The individuals receiving support face enormous obstacles everyday that can be best resolved with support from others.
By getting involved, you have the power to make a significant, positive impact on the lives of many children and youth living in your own community. The CYOF relies heavily on monetary donations and volunteers.
Online at canadahelps.org
In Person or by Mail: 433 McIntyre Street West, North Bay ON P1B 2Z3
Cheques are payable to "The Children's Aid Society of the District of Nipissing and Parry Sound".
Please specify the program you wish to donate to.
You are only eligible to receive charitable tax receipts for donations that exceed $10.