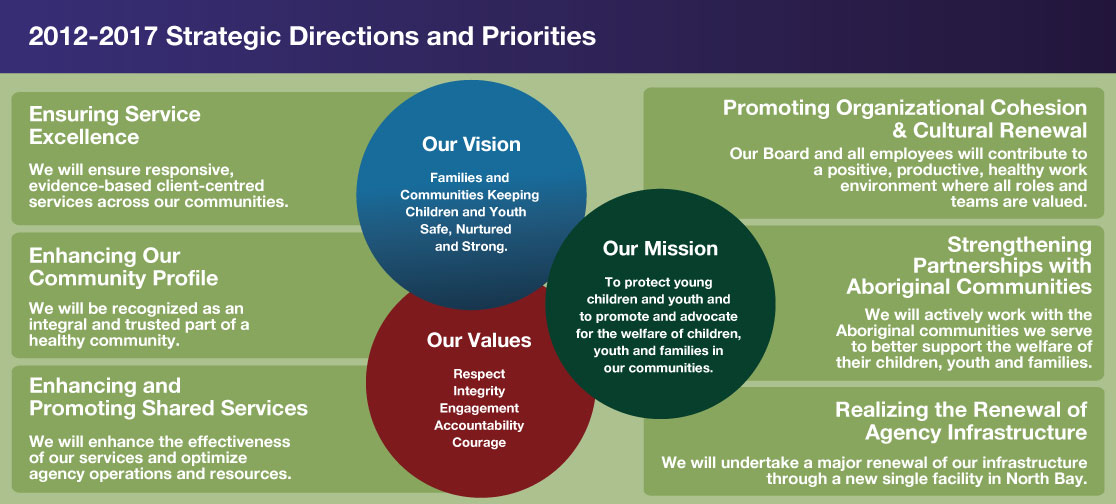 Families and Communities Keeping Children and Youth Safe, Nurtured and Strong.
To protect young children and youth and to promote and advocate for the welfare of children, youth and families in our community.
Respect, Integrity, Engagement, Accountability, Courage
Ensuring service excellence:
We will ensure responsive evidence-based client-centred services across our communities.
Enhancing our community profile:
We will be recognized as an integral and trusted part of a healthy community.
Enhancing and promoting shared services:
We will enhance the effectiveness of our services and optimize agency operations and resources.
Promoting organizational cohesion & cultural renewal:
Our board and all employees will contribute to a positive, productive, healthy work environment where all roles and teams are valued.
Strengthening partnership with Aboriginal communities:
We will actively work with the Aboriginal communities we serve to better support the welfare of their children, youth and families.
Realizing the renewal of agency infrastructure:
We will undertake a major renewal of our infrastructure through a new singe facility in North Bay.