The Children's Aid Society of the District of Nipissing and Parry Sound provides an environment that is welcoming, supportive, inclusive, and encourages a team approach. We take great pride in working within a supportive and collaborative environment. We continually strive for a culture of shared leadership, and we are unified in our resolve to best serve children, youth and families.
Our organization is an excellent setting for job seekers who are looking to make a difference in the lives of children. We offer a rewarding career with extensive benefits, such as:
Competitive Salaries
Four weeks paid vacation*
Two paid float days per calendar year
Comprehensive Extended Health & Dental Benefits inclusive of an annual Health Care Spending Account
Attractive OMERs Pension Plan with shared employee/employer contributions
Ongoing Training and Professional Development Opportunities
Flexible work schedules
Opportunities for professional growth and advancement
* Four weeks' vacation is for eligible full-time staff and is contingent of one full year of employment
Training and Development
The Children's Aid Society of the District of Nipissing and Parry Sound supports a work environment that promotes continuous learning and innovation. All new employees complete a comprehensive orientation program and training based on their position. Child Welfare Workers also complete an extensive eight module program in preparation for the position.
Furthermore, training opportunities are routinely offered to build capacity and assist the Society in achieving its Strategic Directions. These opportunities may be internally developed, externally sourced or from the Ontario Association of Children's Aid Society's continuing education program.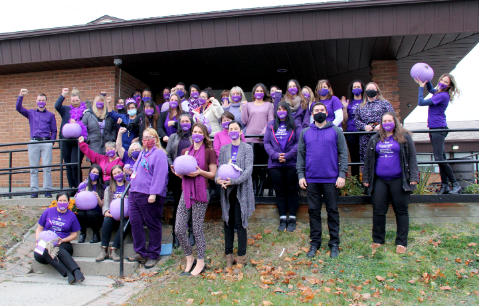 Life at CASNPS
The Nipissing and Parry Sound District is a beautiful place to work . We are located in Northeastern Ontario on the Robinson Huron Treaty sacred land. We have several offices located throughout the districts and offer a wide range employment opportunity, including social work, child and youth work, administration, family law, information technology and more.

We are committed to having a workforce that is reflective of the diversity of our community and strongly encourage applications from all qualified individuals, especially those who can provide different perspectives and contribute to a further diversification of ideas.

Human Resource Commitment
The Agency recognizes that their employees are among their greatest assets, and have thus made a commitment to ensure that they are provided with the following:
A safe working environment, free from both physical and emotional harm.
A voice in the creation of new procedures and an opportunity to input opinions when decisions that affect them are being made.
Fairness when an employment opportunity or promotion arises internally.
The tools and resources necessary to carry out their responsibilities at the highest skill level possible.
Equality and fairness in compensation when similar levels of responsibility are assigned, and a wage that is competitive with other Ontario Social Service organizations.